The leading fleet management solution for the construction industry
Gain 360-degree insight into the performance and behavior of a construction supply operation with our integration with major third-party ready mix and aggregate dispatch systems.
Coretex sets the standard for end-to-end supply chain monitoring with a complete set of high definition sensors. Our sensors were designed for the ready mix industry and includes bowl/drum rotation, water addition, load-switch for aggregate, and integrated job statusing.
Combined with Coretex's suite of fleet management functions, it's the single-platform approach to getting more out of your construction operation.
Industry leading functionality
Provide dispatchers with real-time visibility into the location, behaviour and status of both ready mix and aggregate trucks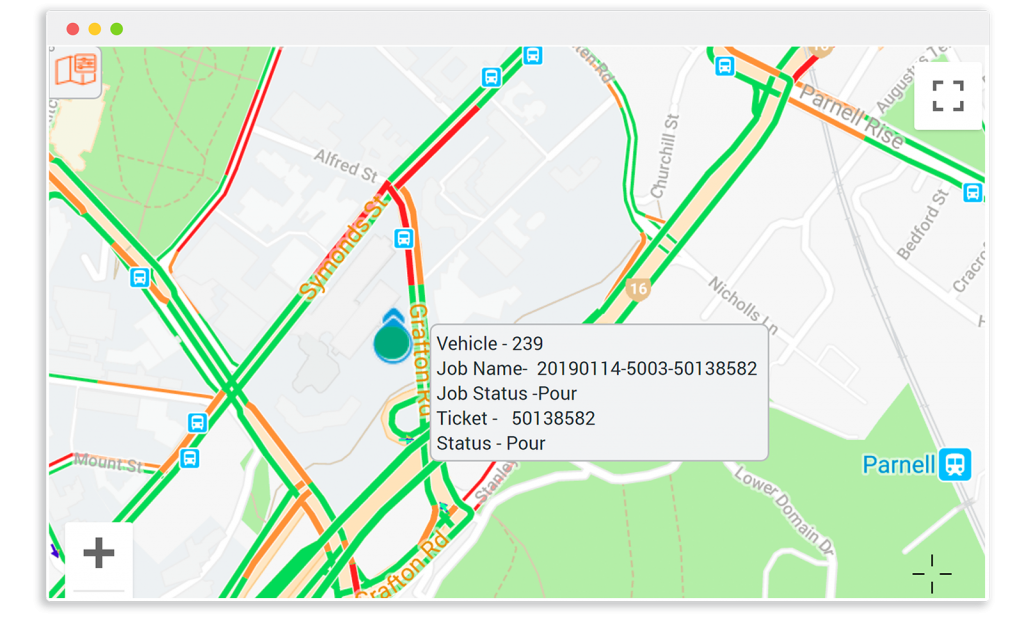 Integrated statusing
Integrated statusing captures highly accurate job information for billing and dispatching without driver input. It takes information from multiple inputs and accurately updates job status. It functions even without drum rotation sensors and accommodates manual status changes.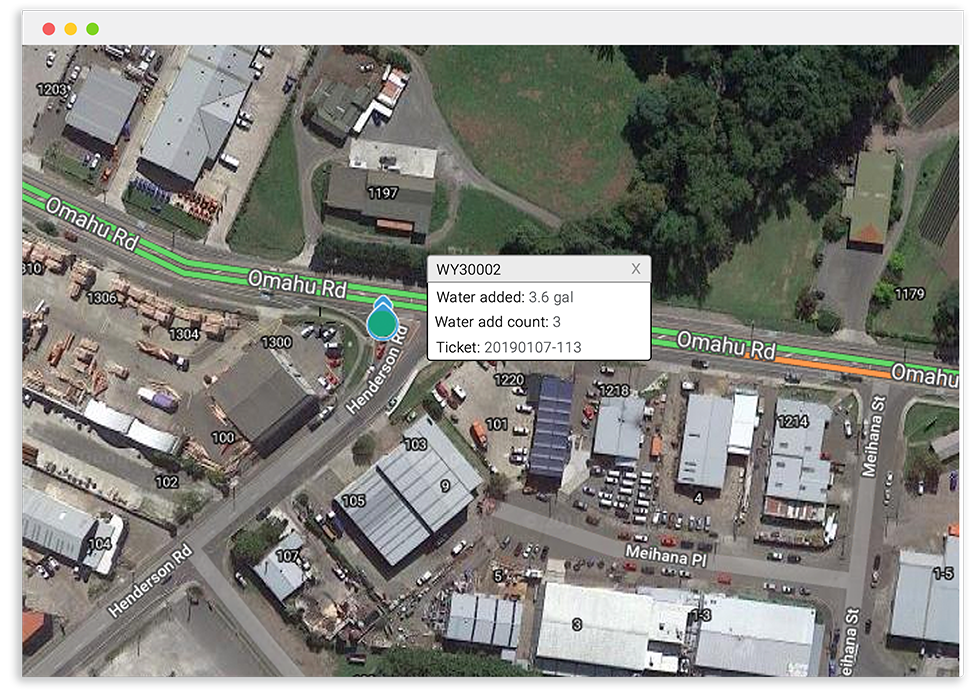 Water Add Monitoring
Automatically record and report water added to the mix for audit and quality purposes, excluding water used for washout or other purposes.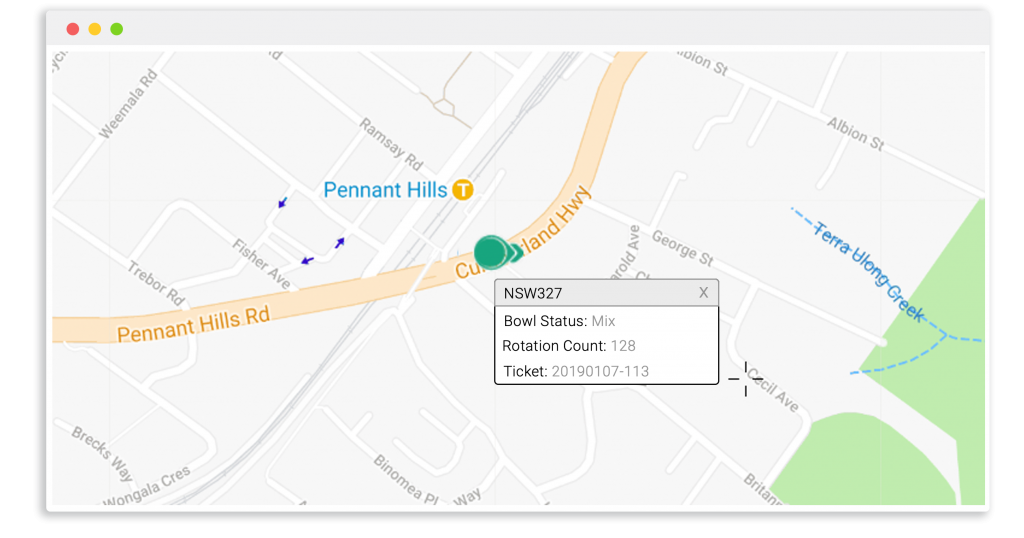 Bowl Sensors
Accurate job reporting with bowl rotation speed, direction and count data.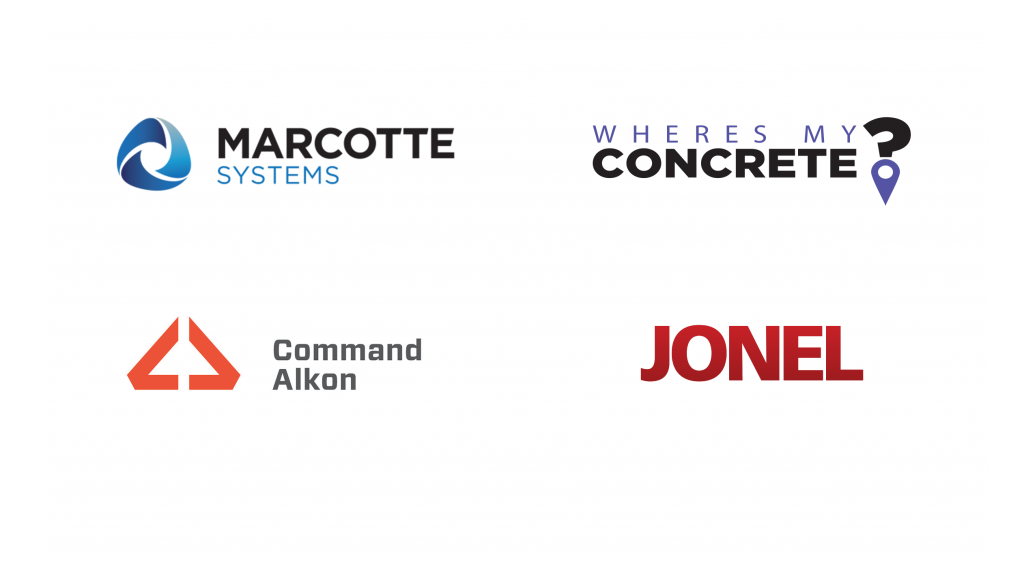 Dispatch Integrations
Full two-way integration with Marcotte, Command Alkon, Jonel, and WheresMyConcrete for jobs, integrated statusing, water add and location tracking.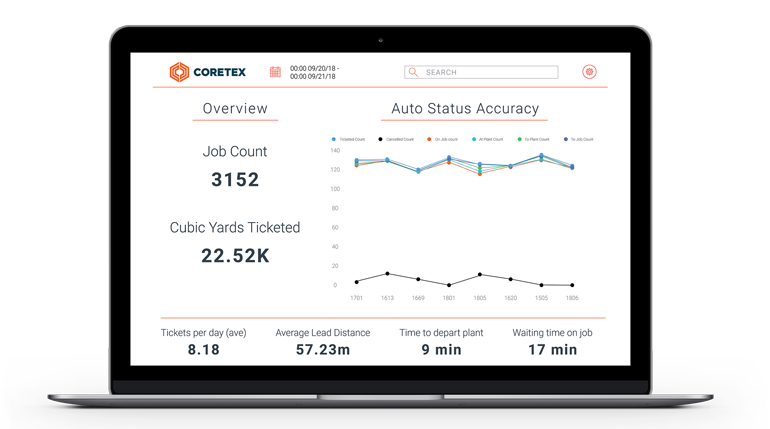 Specialized Dashboards
Combining Power BI tools with our high definition device data, Coretex dashboards give you insight like never before. With reports and dashboards specialized to the construction industry, you can easily see your utilization, total ticketed and more – enabling you to make informed business decisions.
Data includes:
Job count
Cubic yards ticketed
Lead distance
Waiting time
Trip time
Driver behavior
KPI Violations based on vehicles over accepted waiting time
Additional Features
Plant Utilisation
Data like average time in plant (minutes), number of yards dispatched p/hour p/vehicle and more.
Compliance Management
A full suite of enterprise compliance solutions including ELD  Pavement Ruleset and DVIR built from the ground up.
Video Capture of Events
Capture every event automatically with high-quality video recording from up to four cameras.
Real-time Driver Feedback
Receive live feedback of your drivers and adjust their performance in real time.
Incident Detection and Replay
Only Coretex Incident Replay captures exactly what happened in the event of an incident, giving you the precise High Definition Data you need to manage risk.
High Definition Tracking
Cortex industry-leading tracking lets you monitor your fleet in unprecedented detail and take action from the real-time intelligence generated.
Job Management
Cut errors and communications costs and boost productivity with Coretex job management.
Driver Vehicle Inspection Reports & Checklists
Get your assets on the road faster and stay on the right side of vehicle inspection requirements with the easy-to-use Coretex DVIR solution.
Maintenance / Service Manager
Reduce the administrative burden of manual scheduling. Stay on top of fleet servicing and maintenance.
Real-time Location & Geofencing
Track vehicle activity in the geographic areas that matter with on-device and in cloud geofencing.
Trailer Tractor Linking
Manual or automatic PLC-based tractor and trailer linking.
Standard and Advanced Engine Monitoring
Identify poor driving with remote monitoring of fuel consumption, basic fault codes and odometer.
Two-way Messaging
Hands-free messaging between driver and dispatcher via in-cab tablet.
Real-time, complete visibility
The single-platform approach to getting more out of your construction operation.
Fully integrated software and hardware platform

Rock solid and reliable hardware

Aggregate & Ready Mix trucks on one platform

Construction specific DVIR, and driver behavior

Water add and water add monitoring

Integrated job statusing

Dispatch integrations
Coretex is the essential platform for dispatchers, safety teams, maintenance teams and plant managers to get the best out of every aspect of a fleet operation.
Operators can track location and speed, replay trips, define and manage geofences, control assets, interrogate triggered events, monitor driver behaviour, maintain service records, allocate jobs and much more.
Coretex Drive is the best in-cab app for drivers, connecting the cab for real time job information, ELD, navigation and messaging.
Coretex Drive delivers single screen access to turn-by-turn trucking navigation, messaging, jobs, DVIR, checklists, fatigue information, ELD, real time driver feedback as well as your choice of custom applications.
See your vehicles whenever, wherever with the Coretex 360 mobile app.
The Coretex mobile management app shows operators which drivers are logged on and monitors vehicles for position, direction and speed. The Coretex FieldTrak app is ideal for contractors, who can register their availability for work and be monitored in real time within the Coretex platform. Both FieldTrak and the 360 app are available in both Android and iOS.
Recording for up to 72 hours with automatic uploads to 360, you can review and download incidents as needed. The cameras are fully integrated with our 3-axis accelerometer incident replay.
Coretex cameras put operators in the cab alongside the driver to provide essential evidentiary, driver coaching and safety information. Camera feeds are correlated with GPS, G-force and EMS data within Coretex 360 to offer incident analysis and investigation from every dimension.
TMU1500 delivers built in engine management, 3-axis accelerometer and on-device geofences and records high definition data at 16 Hz. It's simply the most powerful telematic device there is.
IP67 rated for the toughest environments like Reefers, Concrete trucks and rail cars.
Advanced device-based processing provides continuous, high-definition data and on device processing, reducing lag and data cost.
"I'm looking forward to a long-term partnership. Coretex's product road map is very exciting and I can see that they will be instrumental in moving the construction industry to the next level."

— Wayne Silva, CFO