With Coretex fleet management you're
in control of your fleet 24/7
Coretex in-cab solutions include powerful FSMA, ELD, IFTA, DVIR, fatigue and job management capabilities, plus a broad range of productivity, safety and reporting functions all tightly integrated with onboard cameras.
With Coretex you get industry-leading business process automation, advanced geofencing, configurable workflows, and easy integration with a host of top operational platforms that combine to deliver safer, greener and more compliant fleet operations.
Coretex unites all the data from sensors in your mobile assets and converts it into intelligence you can use in real time, enhancing productivity for drivers and dispatchers. A better way of doing business.
A single platform solution for your entire fleet
A comprehensive fleet management toolkit that is ideal for mixed fleets operators.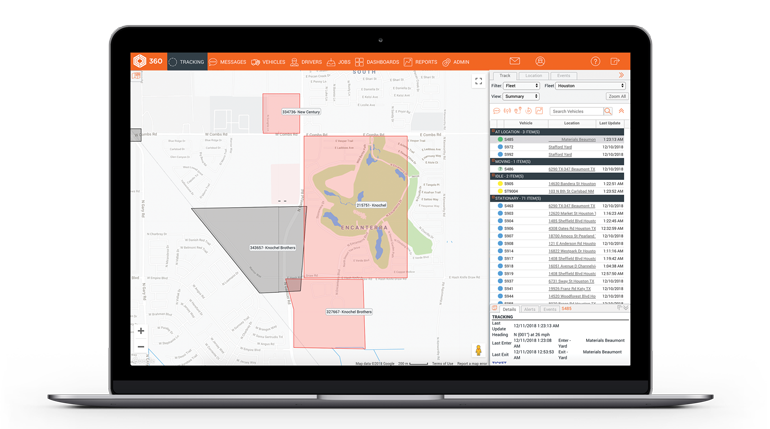 Real-time Location & Geofencing
Track vehicle activity in the geographic areas that matter with on-device and in cloud geofencing. Highly accurate time and location geofence activity recording to the nearest second with support for thousands of polygon geofences. On Device geofencing is the only way to deliver real time and accurate feedback in cab.
Key features:
Auto-Statusing of any asset based on geofence
Entry/Exit detection and alerting
Configurable Timeout/Detention time alerting
Speed Limits
Driver Entry, Exit and Speeding Messages
KPIs per geofence
Nested geofences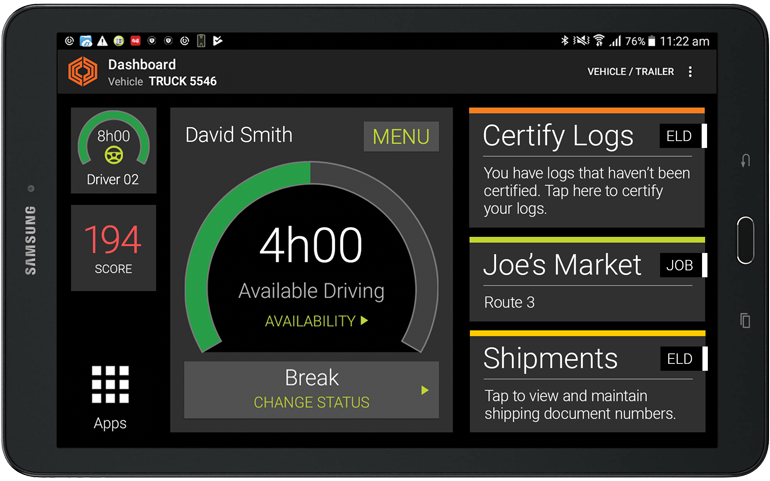 Electronic Logging Device (ELD)
Coretex ELD, automatically monitors vehicle movement, distance and engine hours and displays driving time, along with notifications, to both driver and dispatcher.
It is compatible with a wide range of vehicle and ECM types and supports all US and Canada driver rule sets as well as team, exempt and short haul drivers. The ruleset is also customisable so fleet operators can configure it to operate in specialist scenarios.
Coretex ELD displays in-cab by your choice of mobile device or a Coretex-provided Android tablet. For drivers, compliance couldn't be easier – all they need to do is log in at the beginning of the day, even outside cellular coverage. They can also view availability in multiple rule sets prior to log in. Dispatchers can readily track and manage compliance in Coretex 360 via a dashboard which offers easy access to driver availability data, and interactive graph and multi-edit features for easy log editing.
High Definition Tracking
Cortex industry-leading tracking lets you monitor your fleet in unprecedented detail and take action from the real-time intelligence generated. A broad range of sensors, cameras and in-cab devices offers the richest and most complete view of your fleet, all presented in a single, intuitive management application.
Coretex in-cab solutions draw on more than 12 years of development in tracking technology to offer second-by-second GPS tracking, geofencing and much, much more. Everything from location, speed and harsh driving events to fuel load, trailer ABS, tire pressure, and lights-out detection.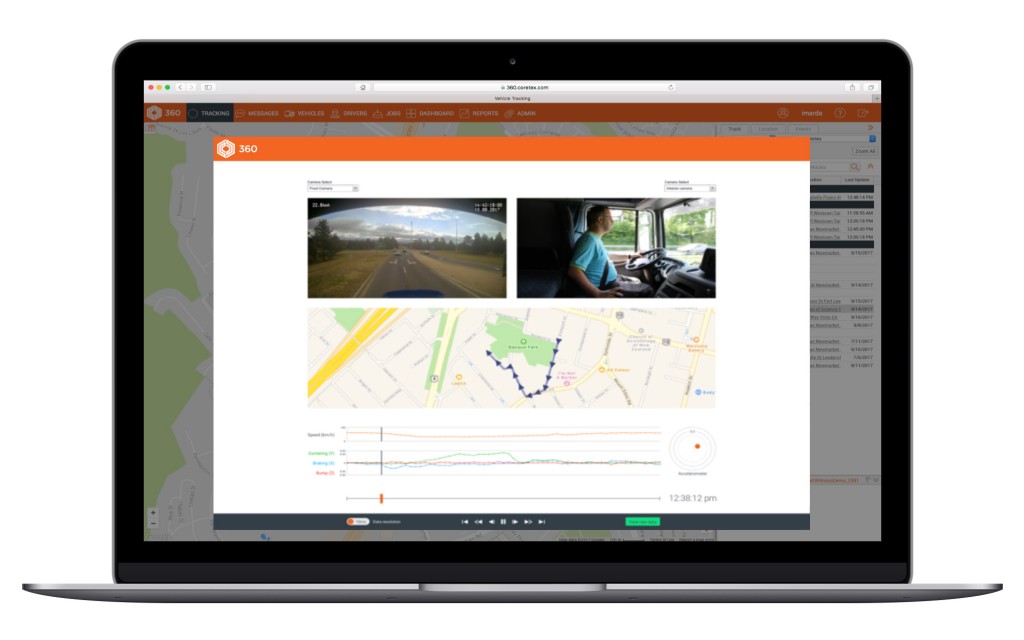 Integrated video cameras
Choose from three different HD camera packages: two-way (driver and forward facing), four-way (driver, forward plus an additional two) and eight-way. Coretex provides instant access to both live and recorded video.
Cameras have their own cellular connection and SD card local storage. They record at one frame per second as standard and 25 frames per second for 10 seconds either side of a triggered incident. Recording starts on ignition and is automatically uploaded in the event of an incident or when triggered by the driver.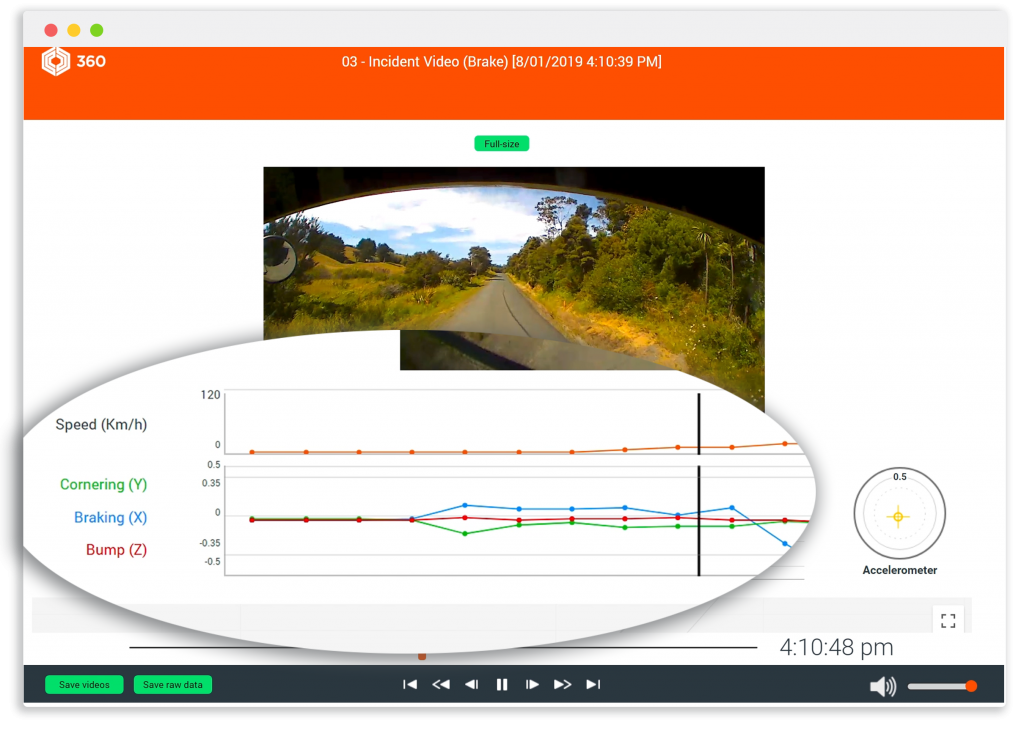 Incident Detection and Replay
Second-by-second analysis and playback of events and incidents. Coretex Incident Replay captures exactly what happened in the event of an incident, giving you the precise data you need to manage risk. A dashboard in Coretex 360 lets operators manage and view detailed vehicle information including speed, accelerometer, RPM, throttle, gear, fuel level and consumption, breadcrumb map location, and clutch and brake status.
Paired with Coretex multi-channel cameras, it offers matching video recordings. Automated alerts to mobile devices and email can also be configured for different incident types.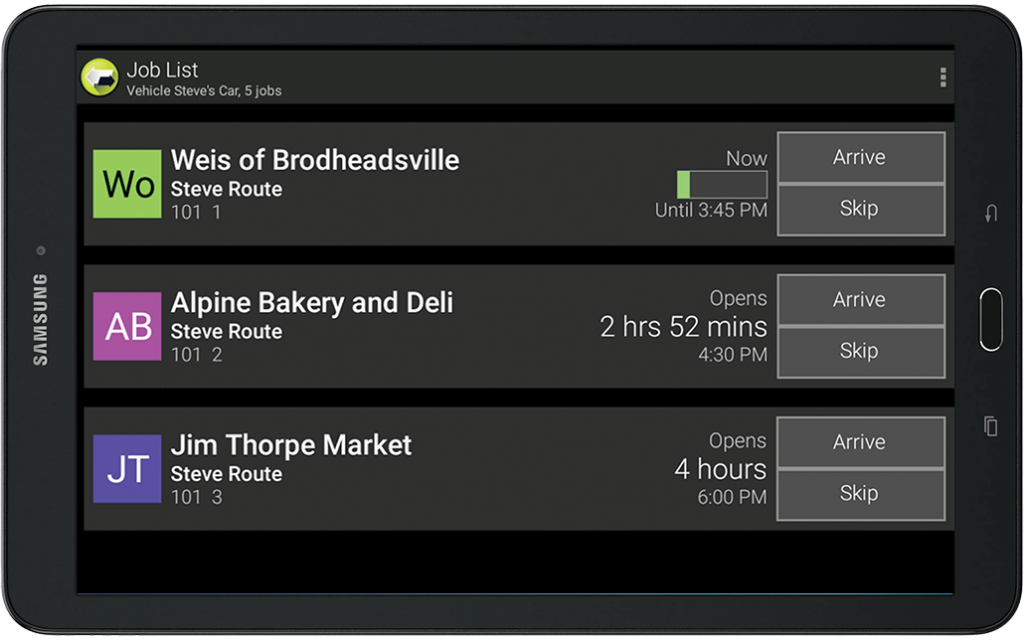 Job Management
Cut errors and communications costs and boost productivity with Coretex job management.
Our highly configurable job management works with any sized fleet and offers a host of features: configurable workflows, support for auto arrival and departure, navigation from the current location to the job, and visual displays of job status. It also integrates with third party transport and logistics systems and provides electronic proof of delivery in real time.
Drivers receive and enter job data on the spot via the tablet or smartphone in-cab, saving them paperwork and administration time. Job management couldn't be easier for dispatchers, too. Jobs and their associated tasks are created within Coretex and dispatched by simply dragging and dropping them into a calendar.
Ready for more?
Talk to our team today and power your projects with our purpose built transport & logistics solution
Additional Features
Driver Scorecard & In-Cab Driver Feedback
Your direct path to real, positive changes in driver behavior.
Driver Vehicle Inspection Reports & Checklists
Get your assets on the road faster and stay on the right side of vehicle inspection requirements with the easy-to-use Coretex DVIR solution.
Maintenance / Service Manager
Reduce the administrative burden of manual scheduling. Stay on top of fleet servicing and maintenance.
Trailer Tractor Linking
Manual or automatic PLC-based tractor and trailer linking.
Standard and Advanced Engine Monitoring
Identify poor driving with remote monitoring of fuel consumption, basic fault codes and odometer.
Real-time, complete visibility

From line haul to local, follow trips on the road so you can have peace of mind that your fleet is covering ground safely and efficiently.
Reduce operational cost
Increase asset utilization
Reduce compliance burdens
Improve operator ratings
Improve management of incidents
Improve customer service
Coretex has been a key and engaged partner for PLM. We find the reporting platform is the best in the industry and give us the on demand reporting we require to meet all of our fleet needs.

Mark Domzalski

SVP, Sales & Field Operations, PLM