Putting you in control of your cold chain.
Coretex two-way reefer solutions give carriers and shippers the visibility, confidence and control they need to deliver first class-customer service with the lowest possible cost.
With over 50 features, the industry's most sophisticated feature-set gives you remote monitoring, and two-way reefer control, monitoring of up to six doors, and advanced power management to preserve reefer and Telematic Unit (TMU) battery life.
Our comprehensive fleet management toolkit is ideal for mixed fleets operators. In-cab solutions include powerful FSMA, ELD, IFTA, DVIR, engine fault codes, fatigue and integrated job management capabilities, plus a broad range of productivity, safety and reporting functions all tightly integrated with onboard cameras. Coretex is the natural choice for mixed fleet carriers.
Today, Coretex manages many thousands of reefer assets and tracks over two million logs a day across both Carrier and Thermo King assets.
A single platform solution for your entire fleet
Keep assets rolling for longer with Coretex industry-leading In-Cab and two-way Reefer Monitoring and control solutions.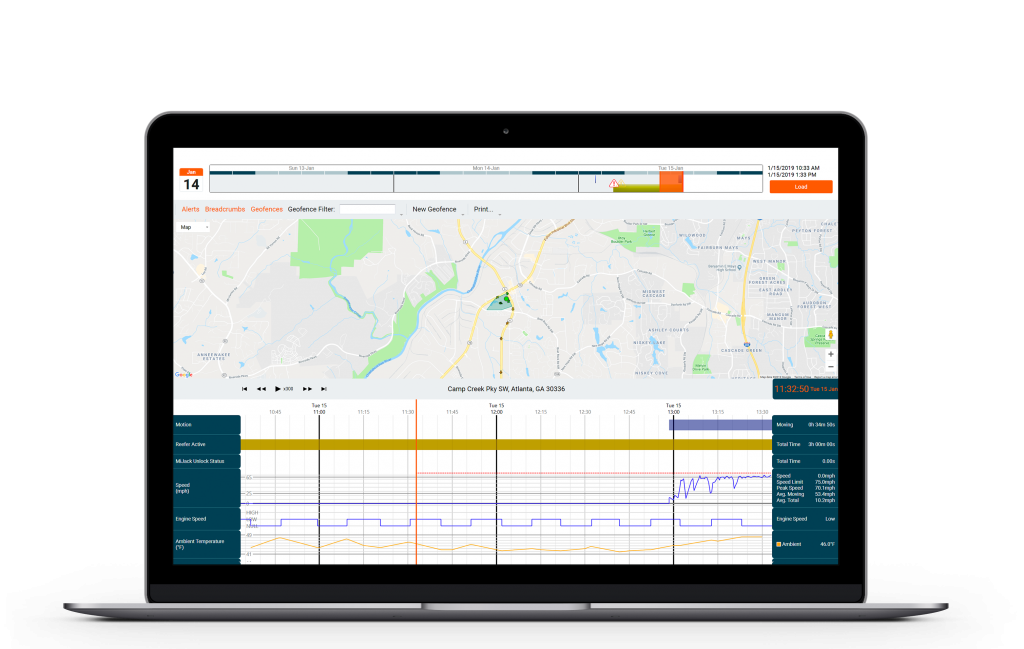 Core & continuous temperature monitoring
Core temperature monitoring for FSMA and other compliance obligations with a powerful range of options: probes, combined temperature and humidity probes, and simulated temperature monitoring to verify route compliance.
Monitor temperature even after the reefer is powered off, trigger updates on any schedule you choose and automatically share information with customers. Visualize up to four probes in each of three compartments. Integrated probe readings during High Definition activity playback.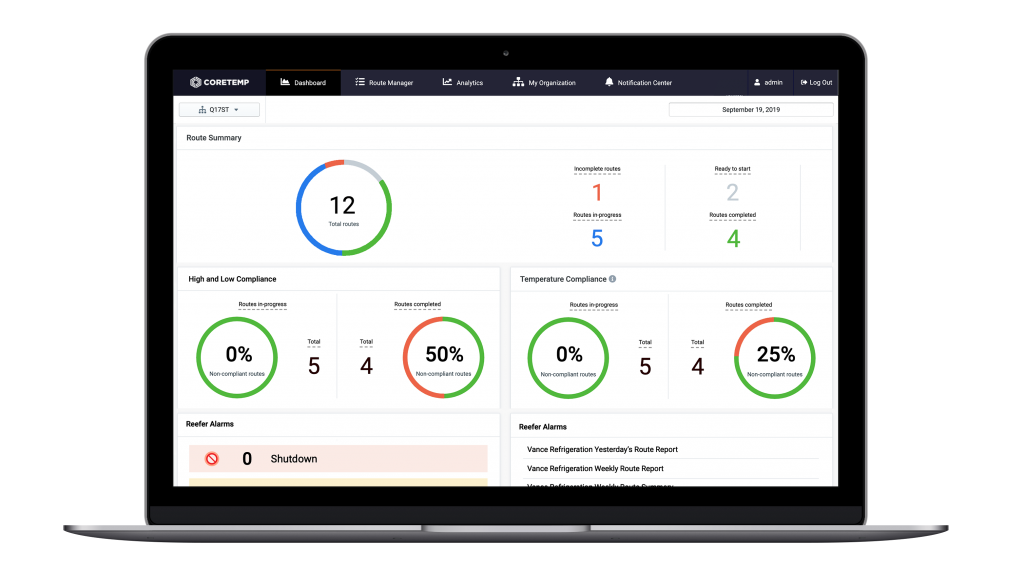 Product Temperature Tracking
CoreTemp is revolutionizing product temperature and delivery compliance throughout the refrigerated goods supply chain. CoreTemp uses intelligent mathematical algorithms to predict the core temperature of your products with incredible accuracy - all in real-time.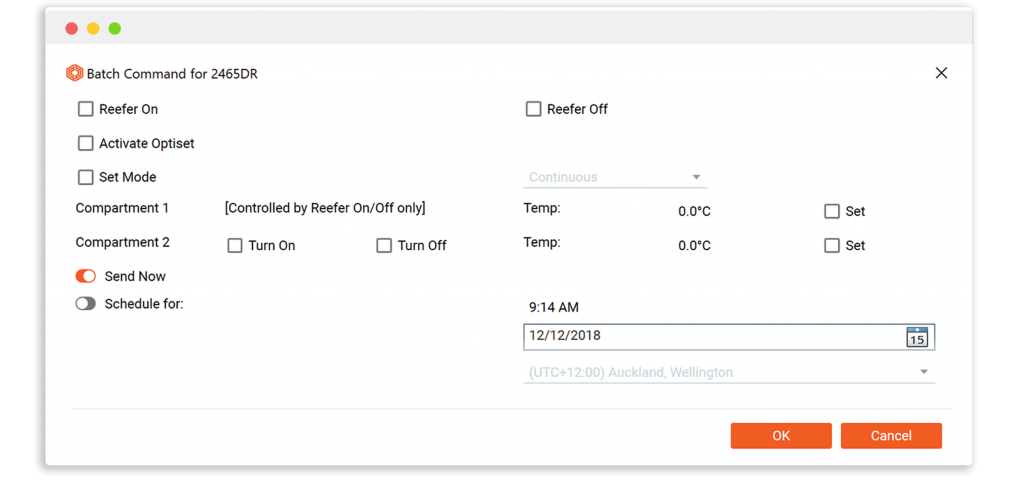 Two-Way Remote Commands
Reefer control at any time via desktop or mobile device. Control at any time and from any location of a broad range of functions including:
Reefer On and Off (Remote Start/Stop)
Operating Mode and Set Point
Stepped Set Point
Run Pre-Trip
Activate Defrost
Afax Control and Fresh Protect
Set Intelliset/Optiset profiles
Return Air, Discharge Air
Pre-Trip Status
Lock / Unlock Command
Scheduled Batch Commands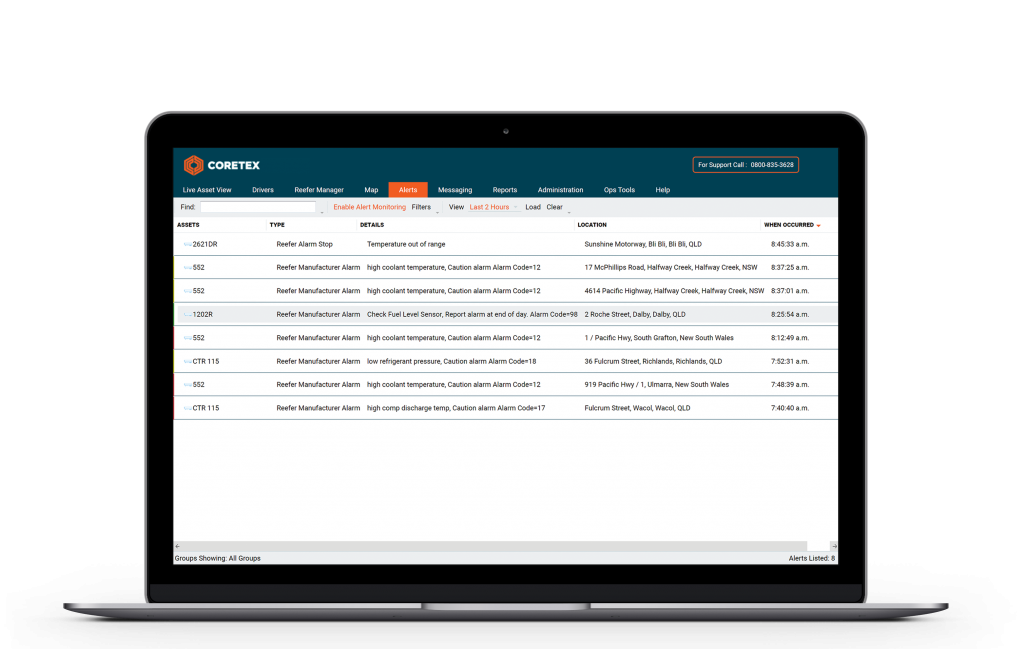 Alerts & Notifications
The right information sent to the right people by the right channel. User-customized alerts for battery, fuel, maintenance, direct diagnostics, performance issues/faults, reefer manufacturer and red alarms, door, temperature, humidity and geofences. Choose SMS or email and select the schedule that suits you.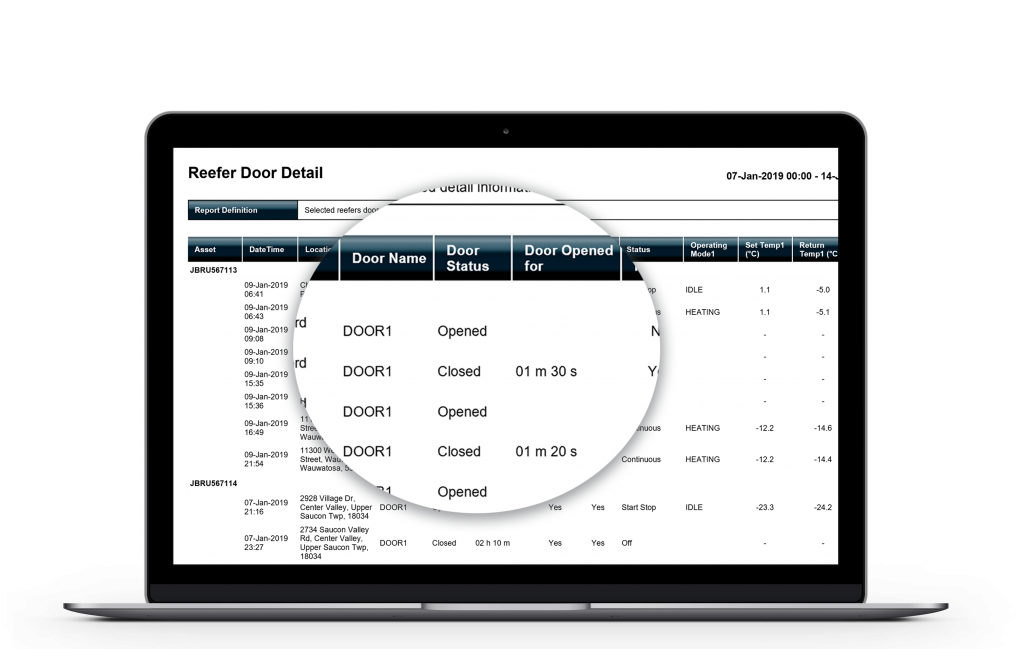 Multiple door reefer state control
Monitor and trigger reefer door state-dependent changes on up to four doors. Includes full door and temperature detail reporting including geofence door activity.
Additional Features
Incident Detection and Replay
Only Coretex Incident Replay captures exactly what happened in the event of an incident, giving you the precise High Definition Data you need to manage risk.
High Definition Tracking
Cortex industry-leading tracking lets you monitor your fleet in unprecedented detail and take action from the real-time intelligence generated.
Driver Scorecard & In-Cab Driver Feedback
Your direct path to real, positive changes in driver behavior.
Job Management
Cut errors and communications costs and boost productivity with Coretex job management.
Integrated video cameras
Coretex Camera systems are the ultimate safety tool, linking video to GPS location to give you a replay of any trip.
Driver Vehicle Inspection Reports & Checklists
Get your assets on the road faster and stay on the right side of vehicle inspection requirements with the easy-to-use Coretex DVIR solution.
Maintenance / Service Manager
Reduce the administrative burden of manual scheduling. Stay on top of fleet servicing and maintenance.
Real-time Location & Geofencing
Track vehicle activity in the geographic areas that matter with on-device and in cloud geofencing.
Trailer Tractor Linking
Manual or automatic PLC-based tractor and trailer linking.
Standard and Advanced Engine Monitoring
Identify poor driving with remote monitoring of fuel consumption, basic fault codes and odometer.
Two-way Messaging
Hands-free messaging between driver and dispatcher via in-cab tablet.
Real-time, complete visibility
From cold chain management to daily delivery routes, Coretex provides end-to-end visibility into fleet operations.
Reduce time to investigate incidents

Safe fuel & reduce wear and tear

Automate company wide compliance

Optimize vehicle servicing

Increase staff & asset utilization

Reduce paperwork and manual data entry
"I recommend Coretex because the solution has proven to be a reliable provider of real-time information that supports efficient operations and safely protects the integrity of our customers' cold chain."


— Ted Prince, COO and Co-founder.