Technology has transformed the trucking industry and significantly improved driver safety and vehicle efficiency.
Most fleets have complied with the federal electronic logging device (ELD) mandate requiring drivers' hours of service to be captured with ELDs instead of paper logs.
Some early adopters of older e-log systems have been allowed to continue using their automatic onboard recording devices (AOBRDs) during a two-year grandfather exemption. They must transition to an ELD platform prior to the exemption expiration on December 16, 2019.
At Coretex, we have dedicated teams of subject matter experts currently assisting companies of various sizes - from hundreds to over nine thousand tractors - with their AOBRD to ELD implementation projects.
1. Clearly identify project champions
2. Survey every part of your business
3. Evaluate Providers and ELDs
4. Evaluate Customer Support & Training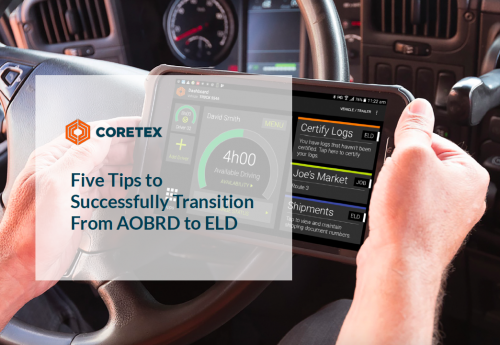 Download the eBook today
For your copy of our five tips to successfully transition from AOBRD to ELD eBook, contact us at through the form below